Every week, you hit the gym to get in the best shape possible and hit new fitness goals. You realized long ago that a personal trainer has been a game changer when you hit those plateaus or are just simply lost on where to start. Now that you are in the fitness game, you may wonder what the best formula is for a weekly combination of solo workout routines and those overseen by a personal trainer.
Well, there are different schools of thought about the frequency of personal training that all have merit:
Training with a personal trainer once a week rarely yields significant results because most of the work is done on their own without a structured workout plan. While a personal trainer can provide feedback and offer suggestions that can be employed on a solo basis. One session may not be enough to really get in all the adjustments that need to be made to make new muscle memory that corrects the mistake made by going it alone the majority of the week.
Training twice a week with a personal trainer is the most common recommendation. There is more time to review what is being done correctly and what needs to be improved. It also provides ample time to introduce new exercises or to raise the bar in terms of weight or repetitions on existing strength training exercises. This regimen also provides a way to ensure that solo work can incorporate more cardiovascular exercises while the time with the trainer focuses on strength, balance, and flexibility.
Other people who work out at the gym prefer to have the expertise of a trainer at all times to ensure they are on the right track and don't injure themselves. Still others are focused on efficiency in terms of what they can accomplish while at the gym, not wanting to waste any time while getting the most out of each session. They may also have significant goals that they want to reach and see working with the personal trainer more regularly as the ideal way to achieve those.
There is no right frequency here that works for everyone. The amount of time working with a personal trainer each week really varies by a client's need and budget. The more you work with a personal trainer doesn't always ensure better results because there is still plenty of time away from the personal trainer where further exercise and diet make those decisions.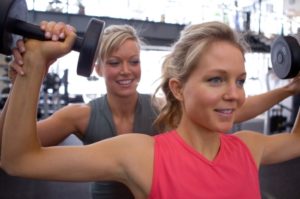 If anything, the frequency of working with a personal trainer is more about consistency. However, if you can only work out once a week with a personal trainer due to your budget, it doesn't necessarily mean it will take that much longer to reach your goals. It's up to you!
What I do know is my personal training staff and I are here to help you in any way we can! Be sure to check out a free trial hour session as well as our special that includes three one-hour sessions for $99!